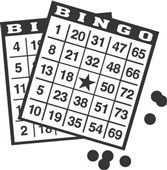 Join your neighbors for a night out at the clubhouse!!
Friday, September 22, 2023 at 7pm
Come for appetizers and bingo!
We will play 20 games, which usually takes about 2 hours. Bingo is for residents over the age of 18 years old. This is an adult only event and space is limited to 60 people (due to building fire code) .
You may RSVP by calling the office at 281-492-2949, email at This email address is being protected from spambots. You need JavaScript enabled to view it., or via the RSVP form
https://www.surveymonkey.com/r/HDHVQVR