The MPCA Board of Directors meets at 7 pm the first Tuesday of every month. All Meetings are held at the Cimarron Clubhouse. All homeowners are welcome to attend.
The MPCA Board of Directors For 2019:
President: Mike Brahm 2018-2020

Vice President: Charles Herring 2019-2021

Treasurer: Michael Olsen 2017-2019

Secretary:William Pongrass 2017-2019

Director at Large: Michael Smyth 2019-2021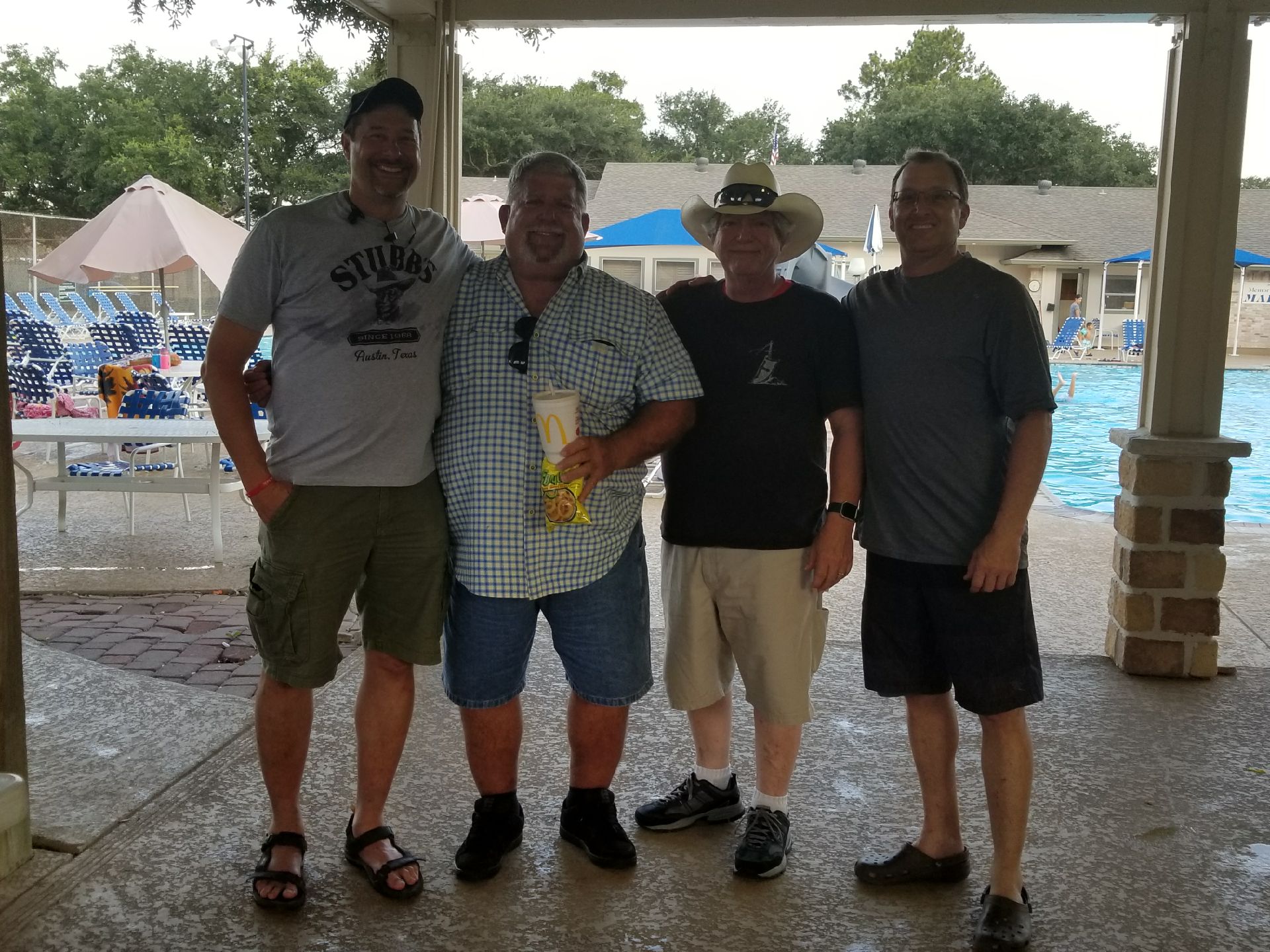 The Memorial Parkway Community Association is governed by the Declaration of Covenants and operates according to the By-Laws of the Association. An elected Board of 5 Directors manage the affairs of the Association. The Board of Directors is required to determine the policies of the Association. Each Director must use his or her best discretion, care and diligence in the performance of their duties. The Directors do not receive compensation for their services. One of the major responsibilities of the Association is to protect your investment and enhance the value of your property. The Association provides for the maintenance and operation of the common areas and facilities. The Association is also responsible for enforcing the covenants. Your Association Annual Assessments provide funds for the maintenance of the common areas, security by the Constables, landscaping of the green areas, pool cleaning and maintenance, lifeguard fees, mosquito spraying, electricity to streetlights and facilities, administrative expenses, etc.
2020 Board Election Information
2020 Board of Directors Annual Election
An elected Board of 5 Directors manage the affairs of the HOA. Each of the Directors is elected for a 3-year term. The 5 Board positions are staggered in rotation meaning every year there is at least one Board position up for re-election. The Board election will be held November 12, 2019 at the Annual Meeting. For 2020, there will be two Board position open for re-election. The candidates running are Chris Collard, Michael Olsen, Michael Sheiman, and William Pongrass. A bio can be found for each candidate below and on our website. A Proxy will be mailed out in the Annual Mailing in October. We have to have to meet the quorum in order to have a valid election. If we do not have enough members return the proxy/vote, then we will have to do another mailing which will cost the members, $1,200. Please help keep your HOA Dues down, by voting this year.
DIRECTED PROXY
FOR 2019 ANNUAL MEETING OF THE MEMBERS OF
MEMORIAL PARKWAY COMMUNITY ASSOCIATION
I/we, the undersigned, a member of the Memorial Parkway Community Association, acting on behalf of all the owners of the property described below, does hereby appoint _____________________________________ (or if no individual is designated, then the Vice President for the Board of Directors of the Association) as my/our true and lawful attorney-in-fact and proxy, to vote in my place and stead on my behalf, as though I myself were present, with power of substitution, at the Annual Meeting of the above-named Association on November 12, 2019, at 7:00 p.m., or any re-adjournment or continuation meeting thereof.
Please select ONLY one (1) of the three (3) options set forth below.
[ ] Option #1: Quorum Only Purposes – Check this box to limit the use of this form for quorum only. We need 10% of the neighborhood to sign for a quorum. OR
[ ] Option #2: Open Proxy – Check this box to allow your agent and proxy to vote for such director candidates, and on such matters as he or she deems worthy; and such shall be my vote. OR
[ ] Option #3: Directed Proxy – My/our Proxy Holder is directed to cast my/our votes in the election of Directors as directed below. Note: You may not vote for more than two (2) candidates. If more than two (2) names are designated, the proxy will be counted for quorum purposes only. This is for an election of two (2) full term officers. You may vote for one (1) or two (2) of the nominees listed below in alphabetical order.
NOMINEE:
[ ] Chris Collard
[ ] Michael Olsen
[ ] Michael Sheiman
[ ] William Pongrass
This proxy is revocable at any time before the Annual Meeting, and the undersigned reserves the right to attend the Annual Meeting and vote in person. Only one vote per household for each property you own in Memorial Parkway subdivision. Write-in candidates are not allowed and will invalidate this Directed Proxy. However, additional candidates may be nominated from the floor at the Annual Meeting on Tuesday, November 12, 2019.
You must sign, date, print name and include your property address below for this proxy to be valid.
Member's Signature ______________________________________Date_______________________, 2019
Member's Name (Please Print) ______________________________ Phone _________________________
Property Address ___________________________________ Email Address_________________________
Please return this proxy no later than 5:00pm on November 12, 2019 to the Memorial Parkway Community Association Office, located at 21600 Cimarron Parkway, Katy TX 77450.
Candidate Bios
Chris D. Collard: I would describe myself as a libertarian or a member of the silent majority in the country or stay out of my business and my pockets. My wife and I have been Memorial Parkway residents since Sept 1999, we really like our subdivision except for the nick-picking letters we get sometimes but I think everyone gets those from time to time. We also like most of the decisions that the board make's with a few exceptions, the last one being the playground, did we really need to spend the money on tearing down the tennis courts and putting up a playground when the subdivision already has one by the Highland Knolls pool and we have access to the memorial parkway elementary school? How about using the extra money to keep the yearly dues down, or I don't know if it's legally possible, but to give back the extra money to the homeowners? Anyway all that being said I'm running for one of the open positions, Hello my name is Chris D Collard.
Folks who visit the Cimarron pool on Saturday or Sunday around 3pm have seen me there, just look for the guy with the tattoo's. :-)


Michael Olsen: My name is Michael Olsen and I have lived in the Memorial Parkway neighborhood for 21 years with my wife Kim and our two children, Cameron and Mikayla. Our family's experience as residents of Memorial Parkway has been an enjoyable one, including having great neighbors and wonderful friends in the neighborhood and community! Our son, Cameron, has attended Memorial Parkway Elementary School and Junior High and graduated from Taylor High School in 2014. He is graduating from the University of Houston this year. Our daughter, Mikayla, attended MPE, MPJH and is currently attending Taylor as a junior this year. Both have been very active in their schools' theatre arts programs and also as members of the Memorial Parkway Swim Team. My wife, Kim, the heart of our family, has raised our children and been very active in supporting them in their endeavors over the years. Among other volunteer roles, she has been a Memorial Parkway Swim Team Board member for 6 years and is currently serving as President.
My career path has been primarily in mid-level retail management in the home improvement industry and grocery industry. I am currently a Category Manager/Buyer for Fiesta Mart. As a manager, some of the strengths I've been recognized for are strong leadership skills, including an ability to work as a team player, working efficiently and fairly toward negotiating win-win outcomes, an ability to innovate and problem solve creatively and a willingness to help with a positive attitude. The nine years I served in the Marine Corps Reserves instilled in me the values of integrity, solidarity and commitment to service that I carry with me to this day.
The Memorial Parkway community has provided a great environment in which to live and raise our children. I have appreciated the opportunity to serve on the HOA Board as Member-at-Large and Treasurer for the past 3 years. I have especially enjoyed connecting with and getting to know our residents at the board meetings and neighborhood activities and I would embrace the privilege of serving this community for another 3 years. I will continue to bring to the position integrity, honesty and open mindedness coupled with a passion for life, love for people and my community. I believe everyone's voice should be heard as we work through issues together to help Memorial Parkway continue to thrive!

Michael Sheiman: Greetings, fellow residents. I am Michael Sheiman, a 38 year old software engineer at University of Houston Downtown with a masters degree in information systems management from University of St Thomas and a live-in girlfriend and daughter. I drive like my kids live here and have the driving record to prove it, never street park, keep an electricity bill under $65, keep my dog indoors and never outdoors barking, and otherwise run a very tight shop. I also have strong shoestring budget design and risk management skills, having self-taught and then built an EV and solar array through my own work, safety, and budget. My work ethic is such that, for example, run and pop bridges (gymnastics) alongside my own 8-year-old daughter, only demanding of others what I do myself alongside them.
I consider working on the board an honor, not a volunteer chore, and believe in working with/for people, not over them, and my ideal goal is to create systems and social connection so efficient and positive, they essentially maintain themselves and save us all money.
Here are some of my goals:
*) To push for freedom from exaggerated deed restriction / violation notices. In my opinion, we should never have over 15% as many violations sent per month as we have homes in our subdivision, we are adults and almost all hardworking.
*) To fight for ability for residents to more frequently vote at board meetings on individual issues, especially on budgets
*) To push for a truly free neighborhood wide SMS/text crime alert/self-report system
*) A voluntary opt-in centralized home security camera data repository to enhance patrol response speed/accuracy
*) To save our community thousands on utility costs just as I have kept a minimal/$65 monthly maximum home energy bill myself
*) To provide residents with an online centralized list of all HOA contractors used within the past year, spending per contractor, and contractor contact information
*) To lower HOA subscription and utility costs and associated yearly maintenance fees just as I have for my own property
*) Open up Spring/Fall pool hours by reallocating paid hours according to resident use/demand, >>not<< raising yearly dues
Skeptical? Then you're a lot like myself!
Please feel free to e-mail me at This email address is being protected from spambots. You need JavaScript enabled to view it. and arrange to meet in person and/or stop by. I do as I say.
William Pongrass: I am running again for a position on the MPCA Board of Directors to continue to serve the community and achieve the goals I have set for our neighborhood. I have served as a Director on the Board for the past six years. I am active and engaging with the residents, other Board members, and office staff. I talk to the residents most every day and am always open to their thoughts and ideas. I bring new ideas to the meetings and I am very conservative when it comes to spending the homeowner's money.
It is important to continue to keep the neighborhood nice and attractive by adding amenities and spending money in the right places to continue to attract young families. I will continue to strive to keep this a nice family neighborhood where people are proud to live and own a home. I will continue to emphasize the safety and security of Memorial Parkway, as well as supporting to pay for a fourth constable.
I grew up in Katy, graduated from Taylor High School, became a homeowner in the subdivision in 1986 and have been an employed with the United States Postal Service since 1987. My 15 year old son attends Taylor High School and is active in baseball. I practice Jui Jitsui in my spare time, as well as try to fit in time at the gym. I enjoy volunteering in my community. I have volunteered for the fire dept. for 8 years (2008-2016), coached youth baseball for several years, and volunteered numerous hours at work.
Your vote will be appreciated.